The new year has started. For most of the companies that means new strategic plans for possibility to grow in future. Banking industry is no exception. New year, new me or even better me applies for them too. Inside board meeting rooms C-level executives set new KPI's and plan improvement on existing ones. Mid-level executives have to obey these plans. Executives must be happy to get that yearly bonus.
What does the banking future hold?
I believe, that any banking and corporate working person can relate with me here. Business wants to see results and most visible result is increase in revenue or new clients. Standard things that gets carried out by marketing or product team. They have to come up with award winning ads or create new "killer service". This is easy path with short term solution. Then next year comes and everything starts over again.
Not everything is that grim. There are people that are willing to update existing services and create new ones. Create new service applications. Improve existing online banking. Create new products and present them digitally. How do I know? In the end of the previous year and now I am being invited to talk with banks about this. New year, new resolutions, new plans.
Digital teams got their budget for what they asked and now they have to make that work. In the best case scenario someone from board supports this and wishes, that this will succeed. In many cases this is just initiative of tech-savy, digitally oriented newcomer. Probably in late twenties, hired 1-2 years ago. What you can see from here - bank is focusing on loan and product services and not caring much about digital channels. Group of people are trying, but lack support, because all focus is put on old-school marketing tricks.
As UX enthusiast I often get invitation to meet a bank representatives to talk about its digital future. And sometimes to see small group of mid level executives instead of real decision makers, makes me sad. That is the moment when you know, that bank doesn't care about digital growth.
To all banks - it's digital age, future is here. Now and today your customers are online 24/7. If you are not - you are already losing customers and potential clients. Being online and digitally ready will give access to your customer anywhere, anytime. Believe me, this is what any smartphone owning person wants.
It is time to stop relying on old school marketing techniques. What worked back in the days will not guarantee right strategy in the future. New product categories, better loan offers and cute ads with happy people in them will not do good in long term. Lets model the scenario. I take loan at your bank, because I saw amazing billboard ad. Now I want to repay this loan and I try to log into my online banking or application - as people do today, and my experience is awful. How will I feel? Terrible. I have to repay loan in a way I hate for many years from now on. I will hate this bank and all its services. I would think twice before starting to use other product.
Banks need to have a digital strategy and commit to it. If you already have a digital channel or one is under development, you need to think about how to use it. In simple terms, if you are good looking person, it might be hard to get to you unless you put yourself out there. Also, trying might not succeed, you need to have a strategy and an execution plan. Why and to whom you are doing this and how to reach the maximum out of it.
Following this, giving full support from all bank's executives and departments, it is possible to get traction this year and big results next year. Growth and KPI execution is not a sprint from year to year it is slow, but focused and future oriented strategy based on design thinking and excellent customer experience. And the future is digital my friends!
Find out how to provide maximum value with digital channels in banking.
Get UXDA Research-Based White Paper "How to Win the Hearts of Digital Customers":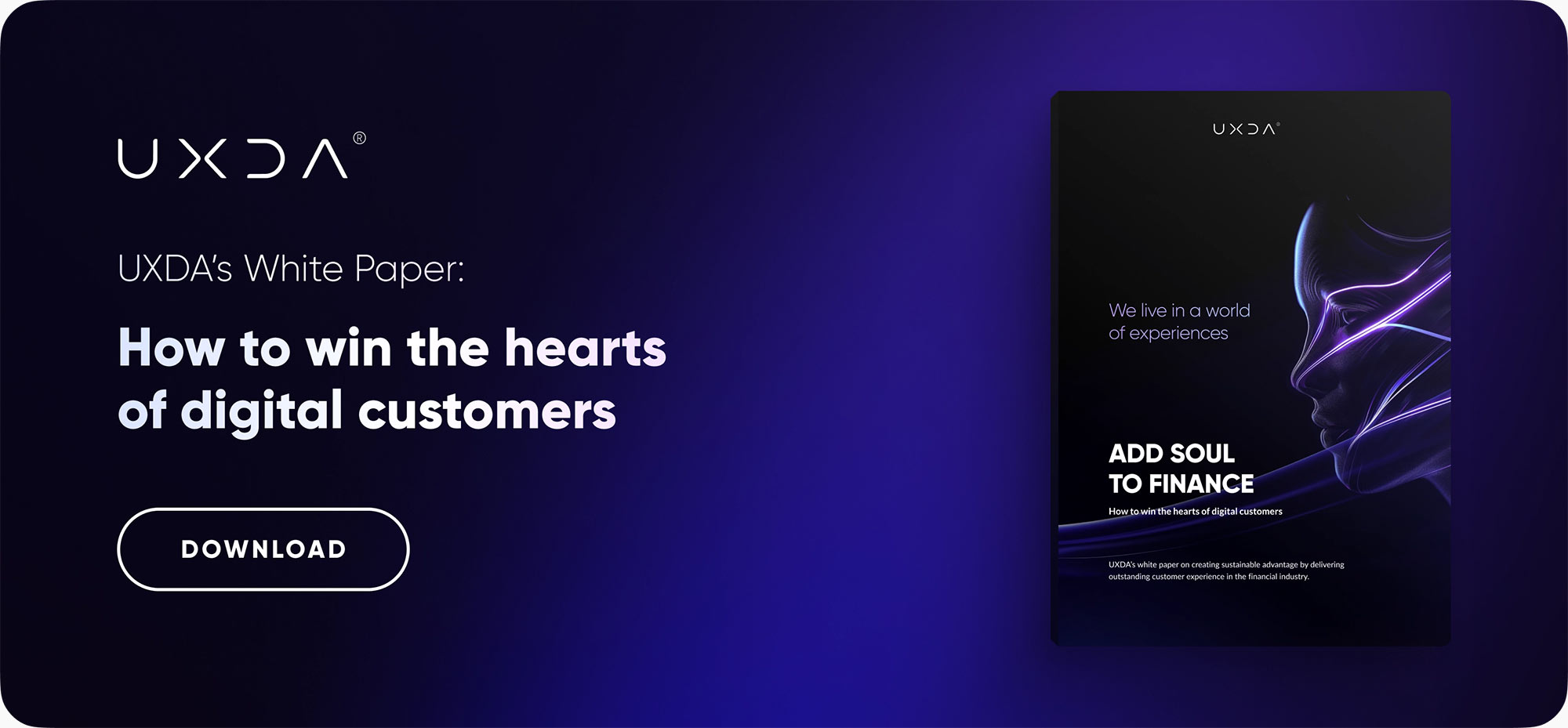 If you want to create next-gen financial products to receive an exceptional competitive advantage in the digital age, contact us! With the power of financial UX design, we can help you turn your business into a beloved financial brand with a strong emotional connection with your clients, resulting in success, demand, and long-term customer loyalty.