We were honored to design GInvest investment user experience for the Philippine largest e-wallet GCash. Thanks to the independent review platform Clutch, you can learn about our cooperation and read the interview with our client. The review collected by Clutch was given by the GCash's Director of Digital Experience, Michelle Fernandez, based in Manila, Philippines.
About the Project
Client: GCash
Case: UX Design for GCash investment product GInvest
Time: 12 months
Project summary:
An e-wallet company was looking to expand their services and customer offerings, so they engaged with UXDA for their UI/UX design services. They utilize Figma to develop the product's screens.
Feedback Summary
The team has a range of capabilities, so all of their work is delivered in a timely manner.
The collaboration has progressed smoothly since the beginning of the partnership, and the internal stakeholders have leveraged the vendor's technical expertise to improve the product.
The Interview
Why Did Your Company Hire UXDA?
I am the head of Digital Experience for GCash, the Philippines' #1 e-wallet. We provide financial services such as sending and receiving money, online payments, bank transfers and the like. We have also expanded to other services such as lending and insurance.
For what projects/services did your company hire UXDA?
To further the expansion of our services, we have been looking into offering investment options for our users, specifically for Funds, Stocks and Crypto and we hired UXDA to help create for us a full investment experience, mainly targeted towards first-time investors who are not very knowledgeable but are curious about how to grow their money.
How Did You Make the Selection?
Together with our Platforms team, we researched and found seven possible vendors who we could work with for this project. Our criteria mainly focused on a balance of expertise and cost.
We met with all the vendors, discussed their case studies to see not just their output but also their thought process and we came to the conclusion that while UXDA was not the most affordable option, we would be able to work best with them to achieve the experience we desired for our users as we saw that they placed great importance in understanding and anticipating the needs of potential users.
Please Describe the Project Scope
Before the actual design process, UXDA met with various people from GCash - Experience Architects, Designers, Product Owners, Business Intelligence - to learn about the various customer segments we were targeting and the different types of products that would be housed in GInvest.
Using this information, they conducted their own research and overlaid their findings with our own data to create personas so we would be on the same page as to who we wanted to talk to and how best to deliver great experiences for them. We went through about 3 months of process mapping and experience flows and once sorted and agreed, they began developing lo-fi screens.
We would receive these screens on a weekly basis and either meet to discuss feedback or exchange comments directly on Figma and via email. Post-approval of these screens, they would then create the hi-fi versions. This was not a linear process.
Several chunks of the experience were done in parallel. We are now coming close to concluding the project and majority of the screens are already finished and the remainder of the work to be done is focused on things like badges and animations.
How Many Resources From the Vendor's Team Worked With You?
My team worked with their UX Architects and Designers.
Share any Outcomes From the Project that Demonstrate Progress or Success?
Throughout the project, we were always on track in terms of timelines and I believe that we have had a very harmonious working relationship with UXDA. The flow they have developed for our customers is easy and close to seamless, and the designed screens are beautiful and well thought-out.
How Effective Was the Workflow?
We had great communication with them. All the reports came in a timely manner, agreements were properly documented and they were just very easy to work with.
What Did You Find Most Impressive or Unique About UXDA?
More than delivering great screens, I was most impressed by their attention to detail in terms of learning about our customers. This was not an easy feat considering we were only working together online and our culture and country's economic state is quite unique.
I believe they also fully understood our intent which was not to just deliver a product, but something that could truly help uplift and change people's lives in the long term.
Get UXDA Research-Based White Paper "How to Win the Hearts of Digital Customers":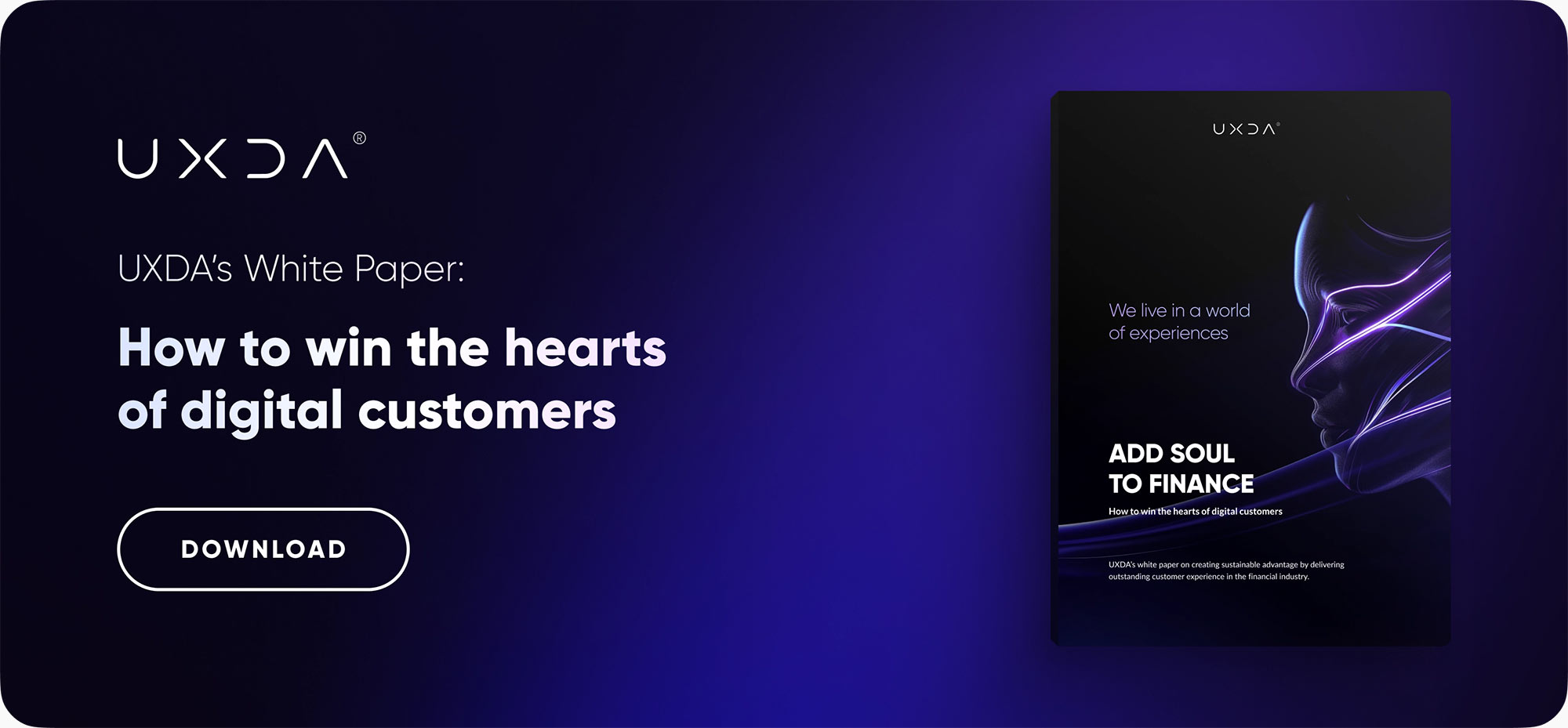 If you want to create next-gen financial products to receive an exceptional competitive advantage in the digital age, contact us! With the power of financial UX design, we can help you turn your business into a beloved financial brand with a strong emotional connection with your clients, resulting in success, demand, and long-term customer loyalty.