We are honored to enhance the user experience for a next-gen product for the tax automation software and services leader SurePrep, part of Thomson Reuters, USA. Thanks to the independent review platform Clutch, you can find out how this cooperation went from the interview with Tal Bjoraker, the Lead UX/UI Designer of SurePrep based in Irvine, California.
SurePrep's service consists of several tax automation software systems, and our aim was to remove friction and unify the fragmented user experience to make it intuitive and seamless. These are some of the most complex systems we have encountered that serve multiple daily tax automation scenarios.
This product diverges significantly from the usual banking or financial applications that the UXDA team designs daily. However, when our team saw the complexity and sophistication of this product, this challenge inspired us.
When we met with the client, we realized what great people are behind this product and the significance of their mission. We are proud of this cooperation that has been ongoing for several years.
SurePrep mission is to build tax technology solutions that transform the tax and accounting industry and improve the lives of tax professionals, taxpayers, and SurePrep team members.
About the Project
Client: SurePrep, Part of Thomson Reuters
Case: UX Design for a tax automation software platform
Time: From October 2021 and still ongoing
Project summary
UXDA has been hired by a tax automation software company to redesign their platform and restructure their UX architecture. They've conducted user interviews and testing and created prototypes and wireframes.
Feedback summary
UXDA has a very refined, efficient, and detailed process that is very impressive.
The project is still ongoing, but the client has been pleased with the results so far. With UXDA's help, they've received positive customer feedback, saved time, and increased their adoption rate. The team has a highly skilled and knowledgeable team that communicates and manages tasks efficiently.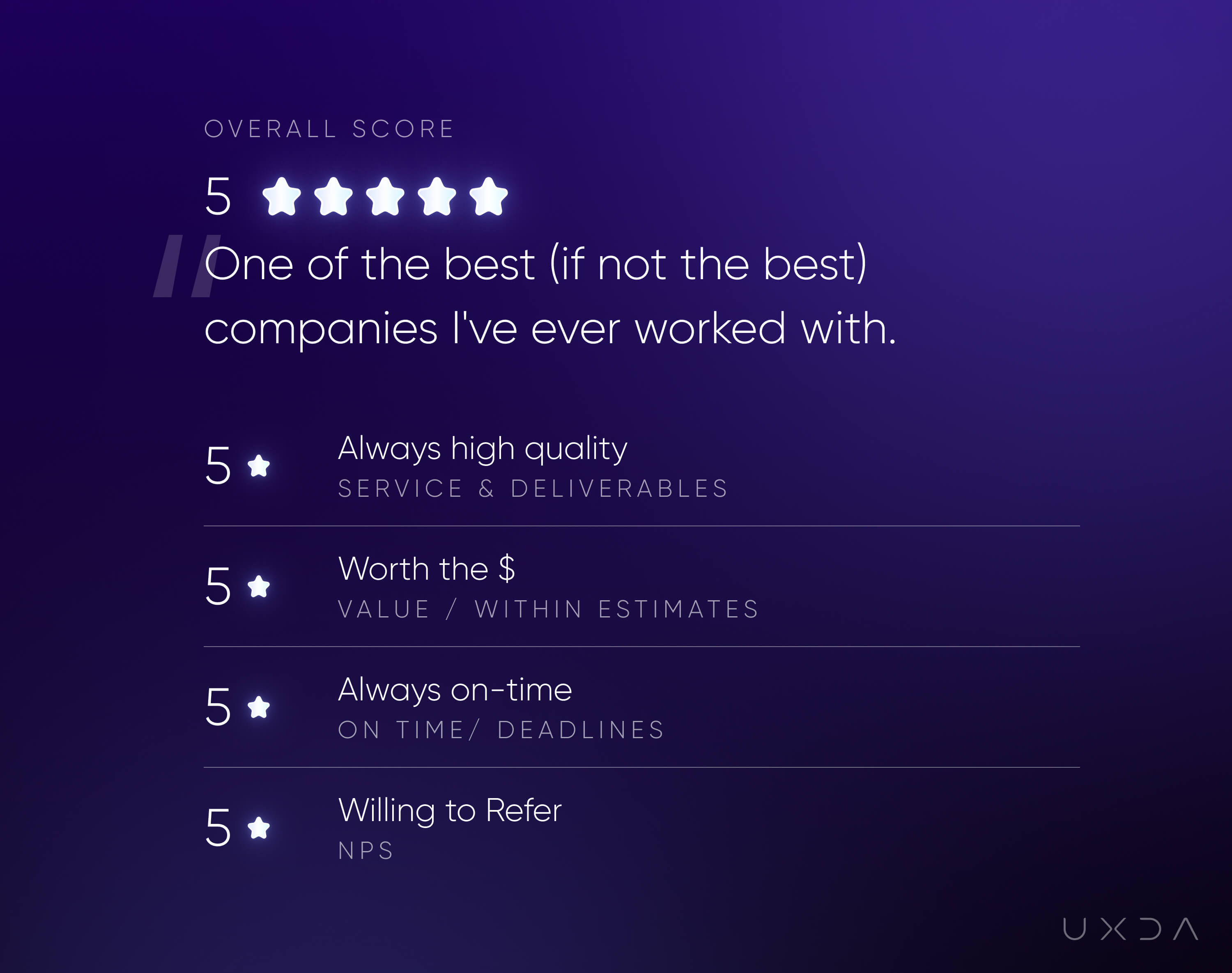 The Interview
What your company does in a single sentence?
We create tax automation software for tax professionals and taxpayers.
What specific goals or objectives did you hire UXDA to accomplish?
Redesign tax professional platform
Refactor UX architecture
Provide a fresh, modern user experience for our tax pro clients
How Did You Make the Selection?
High ratings
Pricing fit our budget
Company values aligned
Great case studies
How many teammates from UXDA were assigned to this project?
2-5 employees
Please Describe the Project Scope
Discovery, user interviews, user journey map, user workflows, user personas, wireframes, prototypes, user testing.
Share any Outcomes From the Project
Project has not yet been finished, but the most important measurable outcomes will be, positive client feedback, time saved, and increased adoption rate.
How Effective Was the Workflow?
Project management was excellent. Communication was detailed and consistent. Project updates emails weekly, weekly virtual meetings, constant communication via chat. Items always delivered on-time.
What Did You Find Most Impressive or Unique About UXDA?
UXDA has a very refined, efficient, and detailed process that is very impressive. The UX architect (Arita) who is assigned to us highly skilled, knowledgable, and a pleasure to work with.
Get UXDA Research-Based White Paper "How to Win the Hearts of Digital Customers":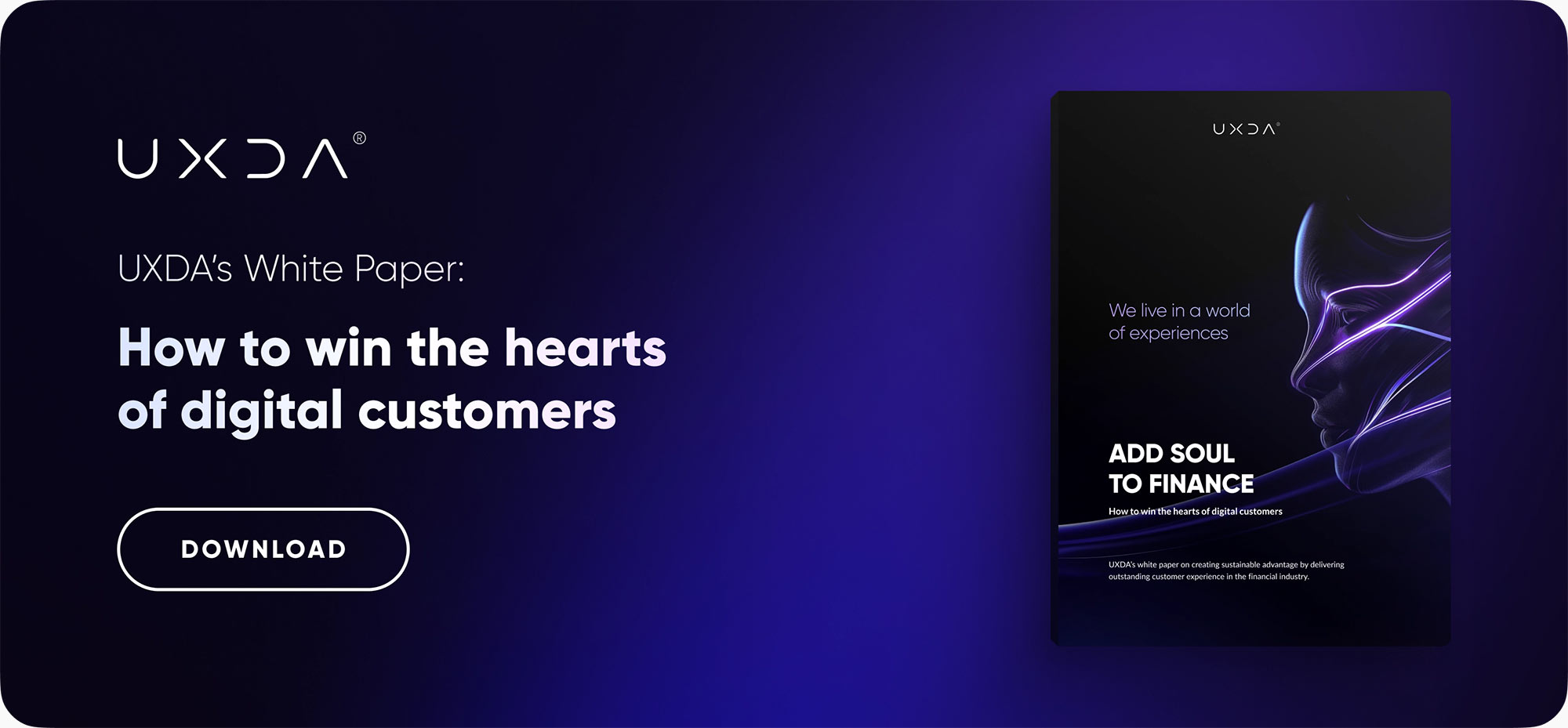 If you want to create next-gen financial products to receive an exceptional competitive advantage in the digital age, contact us! With the power of financial UX design, we can help you turn your business into a beloved financial brand with a strong emotional connection with your clients, resulting in success, demand, and long-term customer loyalty.