Looking for a way to engage your users with the best possible financial design but don't know how? What does it feel like to work with the world's leading financial design agency? In a series of articles, we are inviting you to join the journey of our clients and explore their insights collected by Clutch about the work of UXDA.
This is a review collected by Clutch, given by Herber de Ruijter, the Head of Intellect Design Arena digital division that focuses on Transaction Banking.
STATS:
Client: Intellect Design Arena is a company that develops software products for banks around the globe.
Case: UX Design for Computer Software Firm
Time: 4 years
What Did You Find Most Impressive About UXDA?
They're highly professional. Our collaboration is easy, straightforward, and nice. There were no ego clashes and no friction. Also, UXDA consistently delivers high-quality results.
It's not like they have days with good stuff and days with horrible stuff and I think, "Who is working on this now?" It's a relatively small team and they're quite dedicated.
For us, what makes UXDA stand out is their knowledge of banking, which is what we are looking for. That's why I did business with them again when I moved from one company to another. They were the first ones I called.
What Was the Scope of UXDA's Involvement?
UXDA came in when we were pretty much ready and we knew what we wanted. Our priorities were clear on how we wanted to launch our refined products. We brought UXDA aboard and they hit the ground running.
The onboarding was very short, thanks to the preparation we've done and the way we've structured our efforts and processes. Initially, we briefed UXDA on the personas, user scenarios, user stories, and requirements of our business. They translated those into lo-fi wireframes and turned them very quickly into hi-fi screen designs for both mobile and web. We use InVision to make them instantly clickable and ready for RITE testing.
UXDA assigned 6 people to this project; a big part of their team is on it. We are producing quite an impressive amount of prototyping because banking is a complex and very wide domain. We have around 450 applications for our transaction banking applications covering cash- and liquidity management, trade finance, payments, supply chain, etc. That's pretty much the service that UXDA delivered to us.
It's a very domain-intensive area, so typically we ask for something a bit more conceptual from a design agency. That's quite hard if you don't know corporate banking in general since it is a highly regulated industry. It's not only about, "Oh, that's a really cool feature." Some banks don't allow certain features or they don't work that way in dealing with the complexity of those things. That's pretty much why we're having a quite active role on the conceptual part of things. We always wanted to work that way.

How Did You Come to Work With UXDA?
I already had a relationship with UXDA. We collaborated on retail banking projects and I've known UXDA for 7 months or so. I think I found UXDA through Google. I was really looking for a design agency that had good banking knowledge on a basic level. UXDA had a very nice promotional video about some work they did on banking. To make things easier, it was quite important that our vendor had domain knowledge and design expertise.
What is the Status of This Engagement?
UXDA is working on a retainer basis and there's no defined end date in sight. We have no contract for multiyear projects but as long as things go well, this is a longer-term affair.
Could You Share any Evidence That Would Demonstrate the Productivity, Quality of Work, or the Impact of the Engagement?
UXDA is extremely helpful to us. They are just really good producers and good translators of what we want to build. The quality of their work is high.
For us, high doesn't mean it looks good, as we measure quality differently. First, it means simplifying baseline interactions between the bank and the customer. We push for easier and less complex solutions and UXDA immediately understands that. That's important. It helps that UXDA has a relatively short learning curve since the project is quite proprietary.
We've already done some internal presentations and people were really blown away. That says a lot. However, the standards for UX in traditional banking are not that high so I asked the opinion of people from industries with high UX and CX standards.
If I combine the feedback I got internally, UXDA's work is light years ahead of where we were. Their output is really leading edge for this industry.
For the first time in a long time, I'm really excited about designs because I enjoyed both the process and the end result. I've done a lot of design processes where I was satisfied with the end result but getting there was extremely painful. It took a bit of the positivity away to know how hard it was. In this case, I'm quite happy as everything was relatively smooth.
We did a lot of things in a quite short period, which was beyond my expectations. I think it's because of the chemistry of our teams.
My takeaway is that it helps if you have worked with a team before. You know each other's strengths and weaknesses, so there is almost no friction. They're equipped to give you what you're asking for.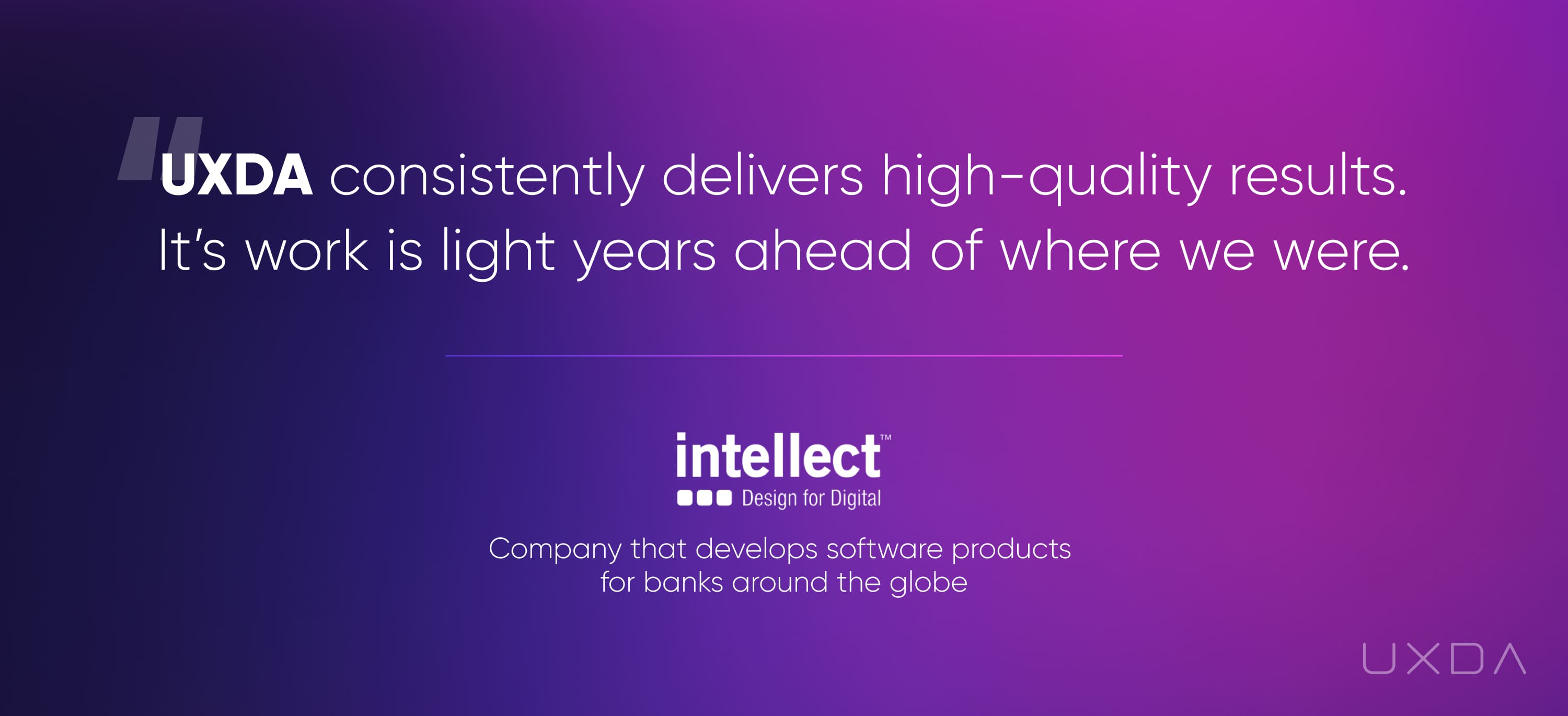 Both sides knew what to expect from each other. I'm so excited about what we have produced with UXDA. The quality of the outcome is high and the process is very satisfactory.
Read the full review HERE.

Get UXDA Research-Based White Paper "How to Win the Hearts of Digital Customers":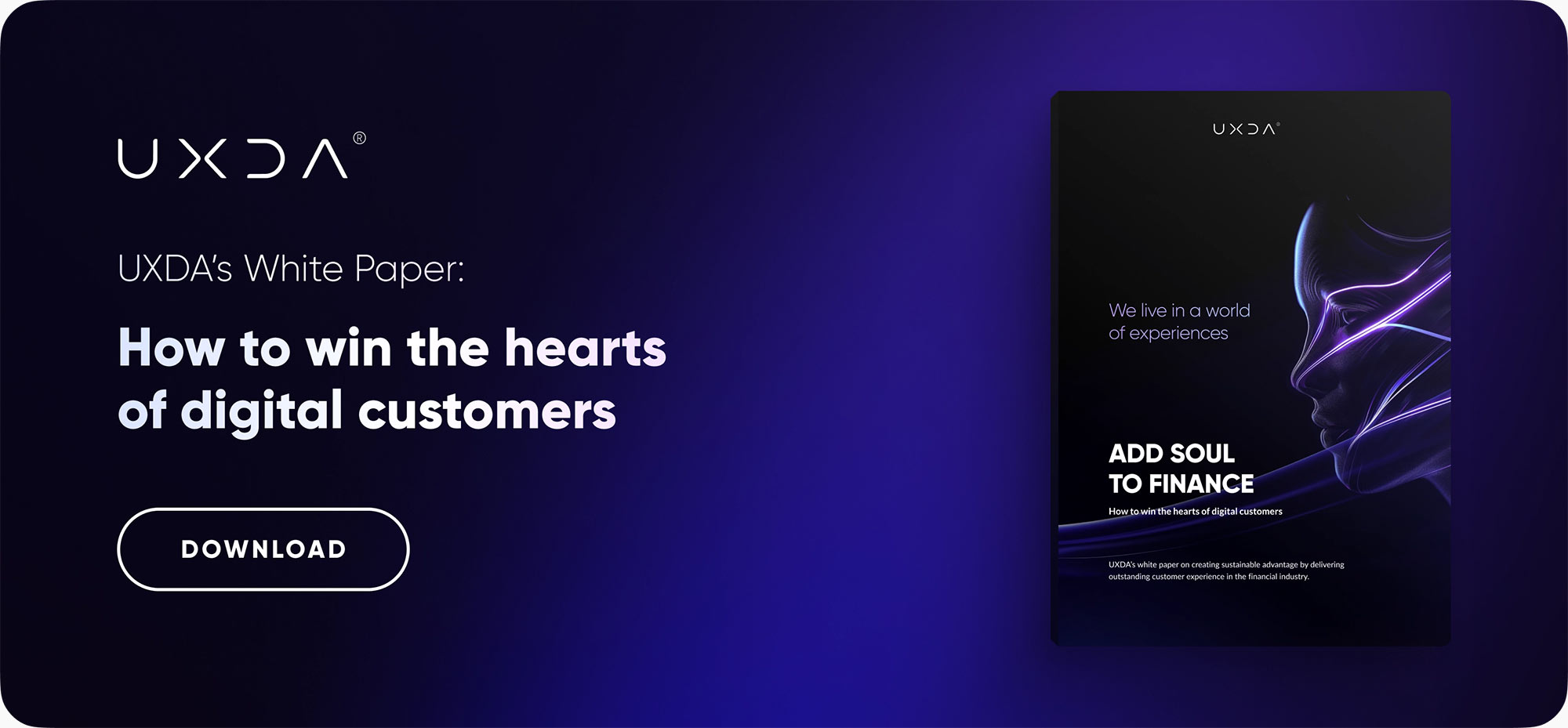 If you want to create next-gen financial products to receive an exceptional competitive advantage in the digital age, contact us! With the power of financial UX design, we can help you turn your business into a beloved financial brand with a strong emotional connection with your clients, resulting in success, demand, and long-term customer loyalty.