Looking for a way to engage your users with the best possible financial design but don't know how? What does it feel like to work with the world's leading financial design agency? Clutch has collected UXDA reviews that we are going to share in a series of articles. Enjoy the journey of our clients and don't be shy to get extremely inspired by them!
UXDA Review by CR2
STATS:
Case: Omni-channel banking software
Time: 6 months
Budget: 150K-200K
What Did You Find Most Impressive About UXDA?
We were impressed by their specialization and the fact that they have all the tools, equipment, and processes to do what we wanted.
They aren't a generalized design agency. I thought their process for feedback and follow-up was superb. The whole team knew what they were talking about.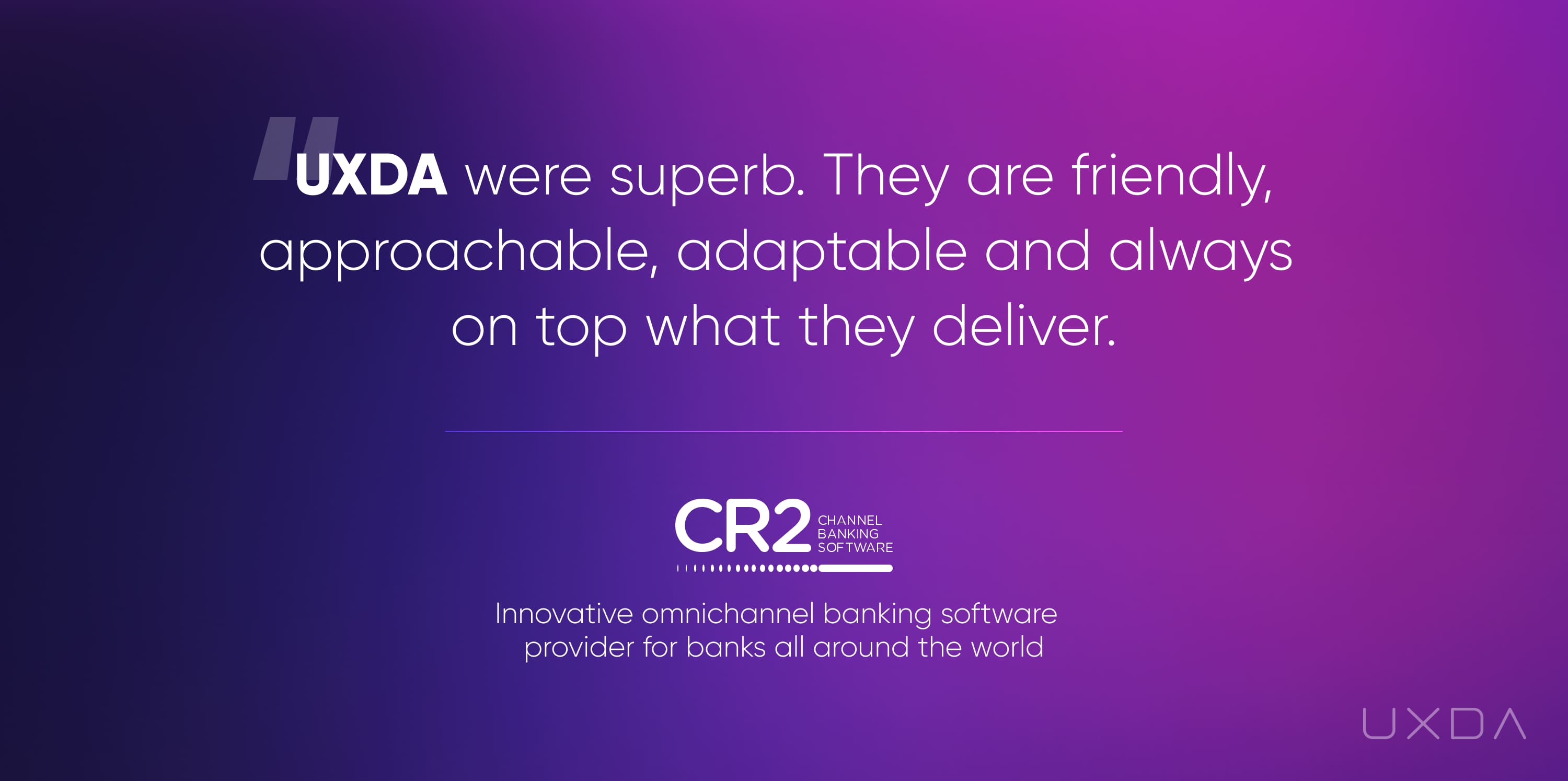 What Evidence Can You Share That Demonstrates the Impact of the Engagement?
Before the app was launched, we asked UXDA to generate some videos representing what the app would look like in action, and we've been able to share that with a number of customers and sales folks. Their feedback has been overwhelmingly positive. In a few cases, we generated considerable interest.
What is the Status of This Engagement?
We started working with them in March 2017, and we collaborated on an aggressive timeline for 6 months. The project has been completed, but I contact them with small tasks now and then.
What Was the Involvement With UXDA Like?
We had a call initially to talk about how we would work together, and they proposed an effective process. We decided we wanted to meet them in person. We met near their offices and went through our requirements. We agreed that we would come up with a couple of designs for internet banking, and they worked with our existing system to design a new user interface [UI] and follow that up with a similar mobile app. They looked at multiple skin variations.
In the end, they provided a UI case, wireframes, and Photoshop and illustration work with video and animations.
They assigned UX architect and consultant Arita as our account manager, and we dealt directly with her and gave her constant feedback. We had fairly regular phone calls where we would ask questions or clarify items for their team.
The target market for our product is retail bank customers. We offer payment services that are easy to extend where banks can interact with their own payment systems. We have design tools to help them build and modify the app beyond what we deliver initially. They can extend their view of the mobile journey beyond the product we give them as a reference implementation.
UXDA didn't work on anything besides the design and frontend of the app, but they did similar work for the frontend of the online banking site, which provides responsive internet banking for desktop, tablet, and mobile devices.

How Did UXDA Perform From a Project Management Standpoint?
They were superb. We didn't have any issues at all. We worked with an account manager, and she dealt with every question to make sure we were happy.
She listened to any negative feedback we had and immediately followed-up to ensure changes were made.
How Did You Come to Work With UXDA?
We wanted to find a firm that had significant experience, a good reputation, and a portfolio in the channel banking space.
We needed to update our mobile app. Because we're a software vendor, we need to compete with other vendors in the same space, so the product had to be excellent.
Two or three people referred them to us, and we did some research online. We contacted them to make an appointment to talk about the project.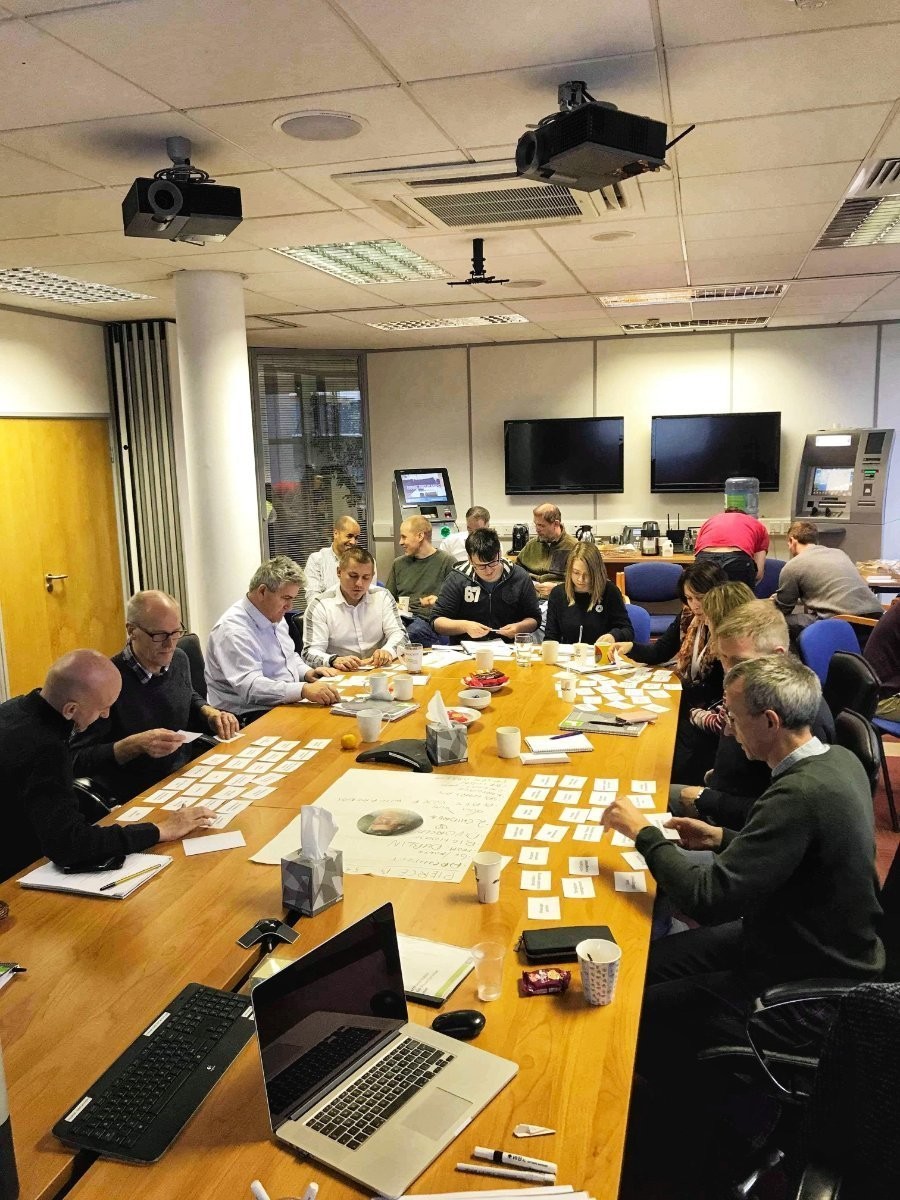 UXDA also had a great workshop together with the team of CR2. Our UX architect Arita went to Dublin to assist CR2 in exploring the opportunities of creating groundbreaking banking software solutions through user-centered approach and Design Thinking.
Get UXDA Research-Based White Paper "How to Win the Hearts of Digital Customers":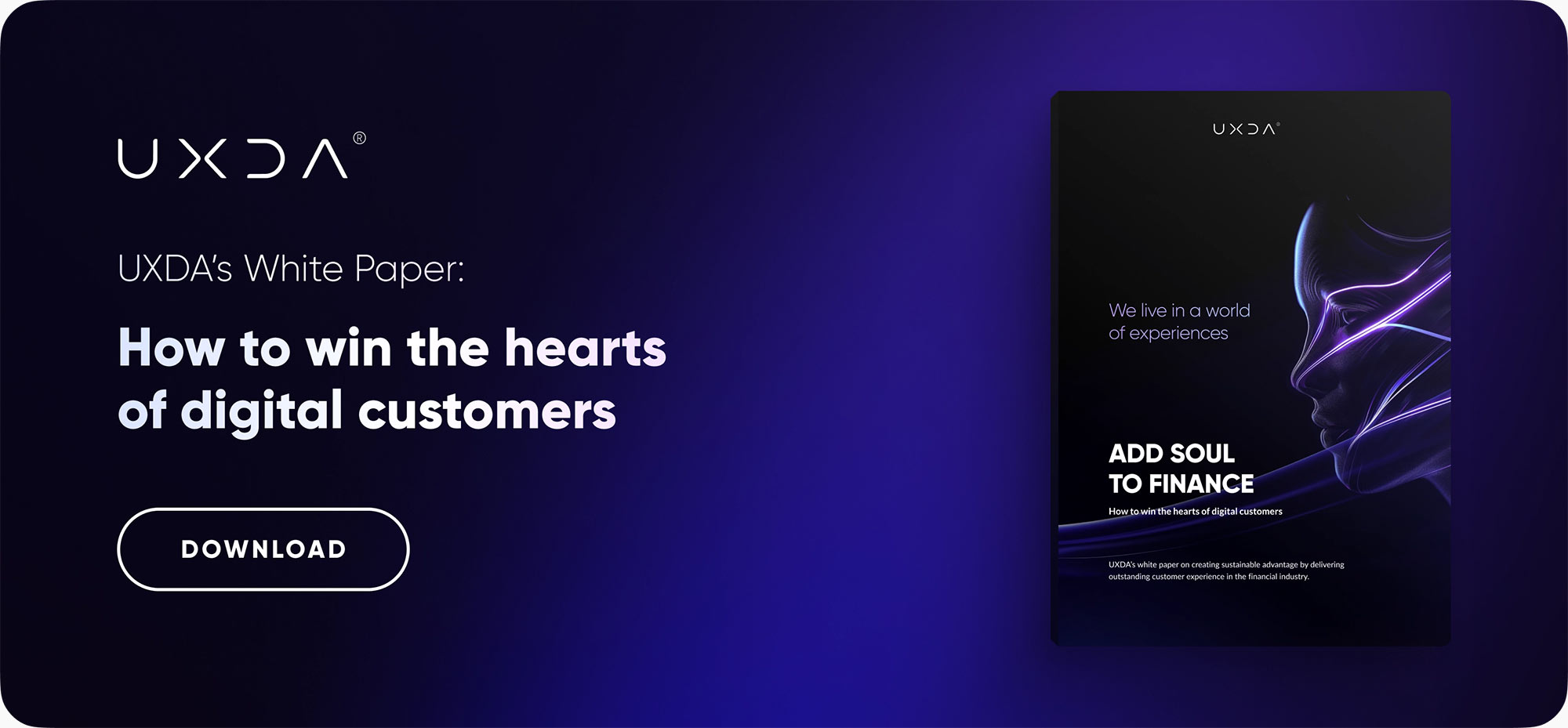 If you want to create next-gen financial products to receive an exceptional competitive advantage in the digital age, contact us! With the power of financial UX design, we can help you turn your business into a beloved financial brand with a strong emotional connection with your clients, resulting in success, demand, and long-term customer loyalty.