We proudly announce that UXDA has received Golden A' Design Award in Mobile Technologies, Applications, and Software Design category with its innovative design solution for the AI conversational banking app UX/UI design. The A' Design Award and Competition is the most prestigious and renowned Italian design award, honoring worldwide excellence in architecture and product design.
UXDA Awarded With the Golden A'Design Award
All over the world, Italian design is the standard of taste and beauty. It is a great honor for UXDA that the 70 jurors of the largest and most influential Italian design award recognized our work as the best among thousands of top designer entries from over 100 countries. The A'Design Awards & Competitions located and celebrated in Como, awarded UXDA the Gold for product design of a mobile banking app with Chat GPT-like AI on board.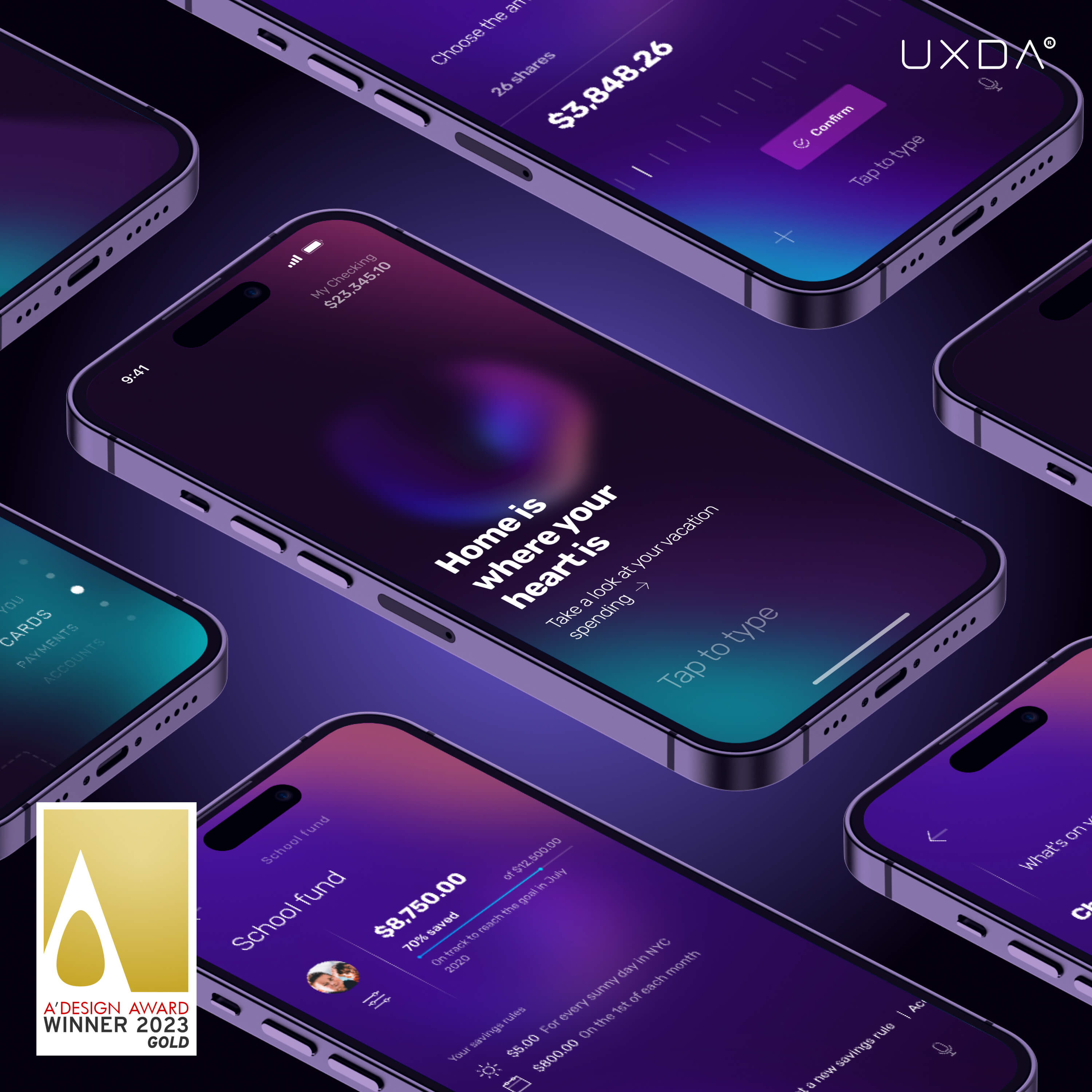 This is a remarkable achievement for the UXDA team and the financial industry in general. The Golden A'Design Award is a prestigious award given to top 3% percentile designs that demonstrate an exemplary level of perfection in design. Entries to the A'Mobile Design Awards are peer-reviewed and anonymously judged by a grand jury panel of prominent academics, influential press members, and established professionals. Previously, the A'Design Award was awarded such brands as Disney, Coca-Cola, Samsung, Vodafone, Nike, Lenovo, and Nissan.
UXDA-designed conversational banking app demonstrates the potential for using AI and machine learning solutions to provide next-gen banking products enriched with personalized, contextual responses that establish an emotional bond with users. More details and design approaches for this design are revealed in the case study.
CEO and Founder of UXDA, Alex Kreger:
We are honored by this evaluation. This amazing Gold award perfectly shows how AI-powered solutions such as ChatGPT could fuel next-gen products in banking. Integrating innovative technologies often causes complications in terms of product design, and this is where advanced financial UX design comes to the fore.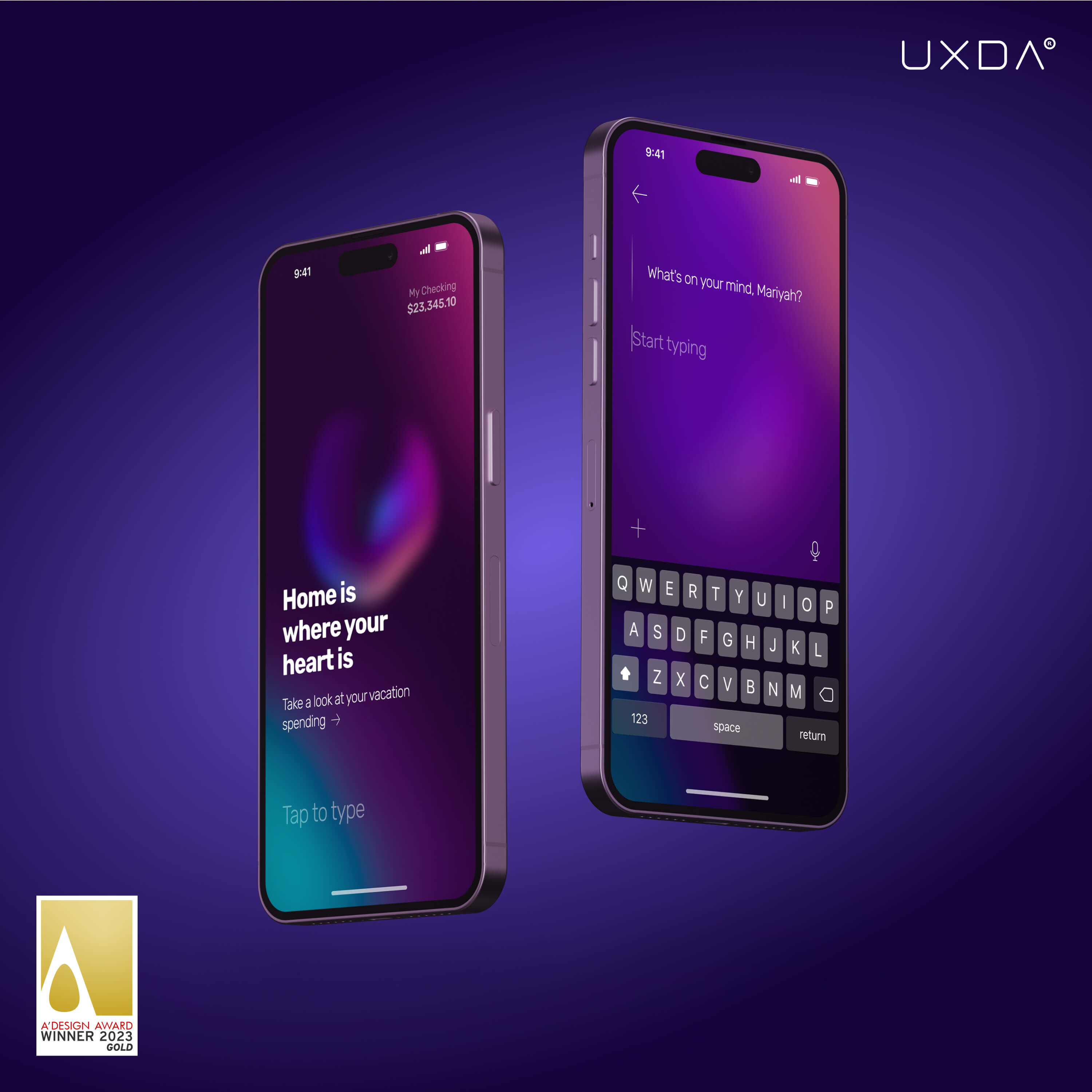 Liveperson team challenged us to create a never-before-seen banking interface and full-range retail banking services. After the initial research, we understood that this was one of the first attempts to create full-featured, AI-powered conversational banking.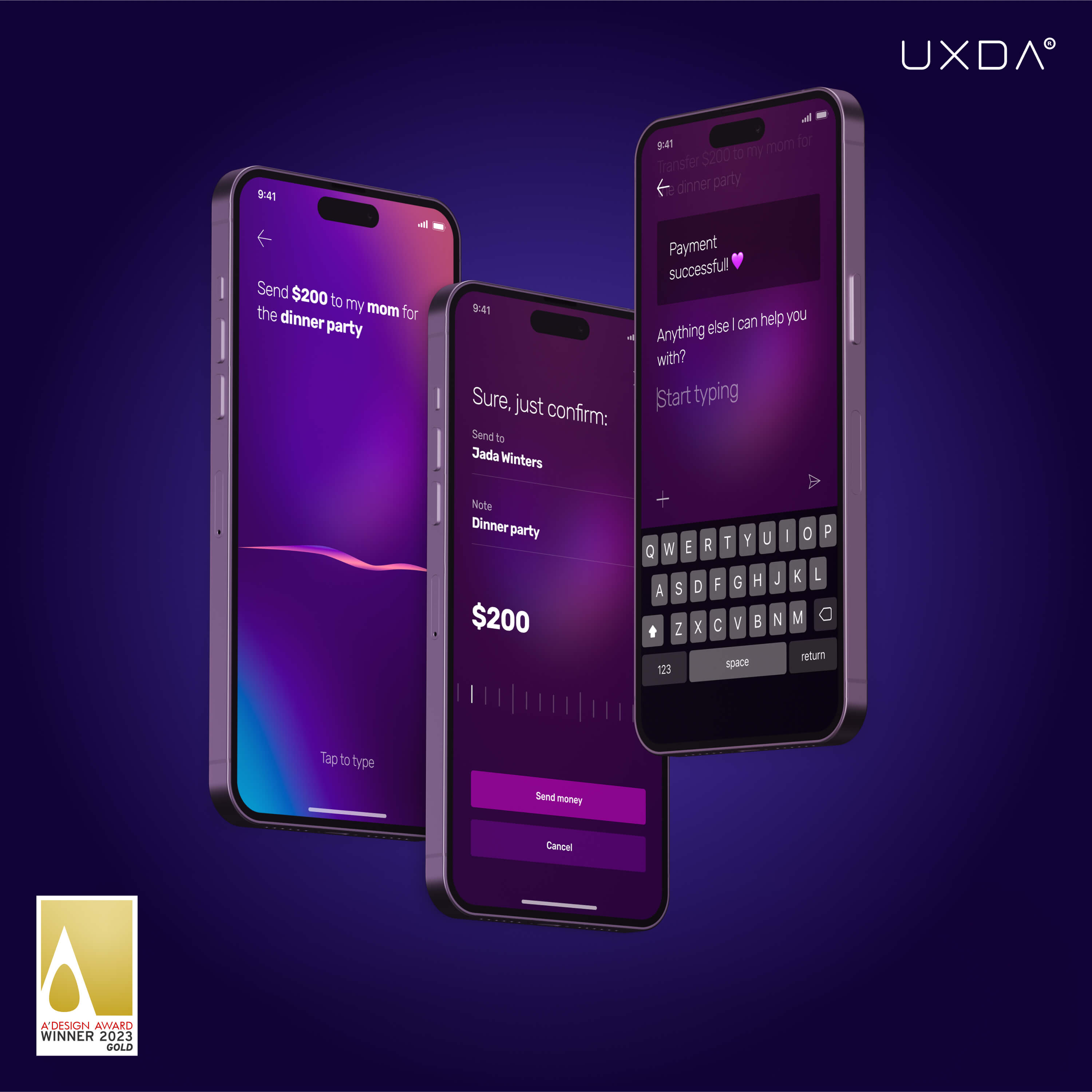 We tried to dive deeper into digital human behavior to find a new edge for the banking experience. This required courage and an innovative approach to combine cutting-edge technology with a design rooted in beauty, love and empathy. This is an example of how disruptive AI technologies, could be integrated into the banking experience with the help of customer-centered UX design.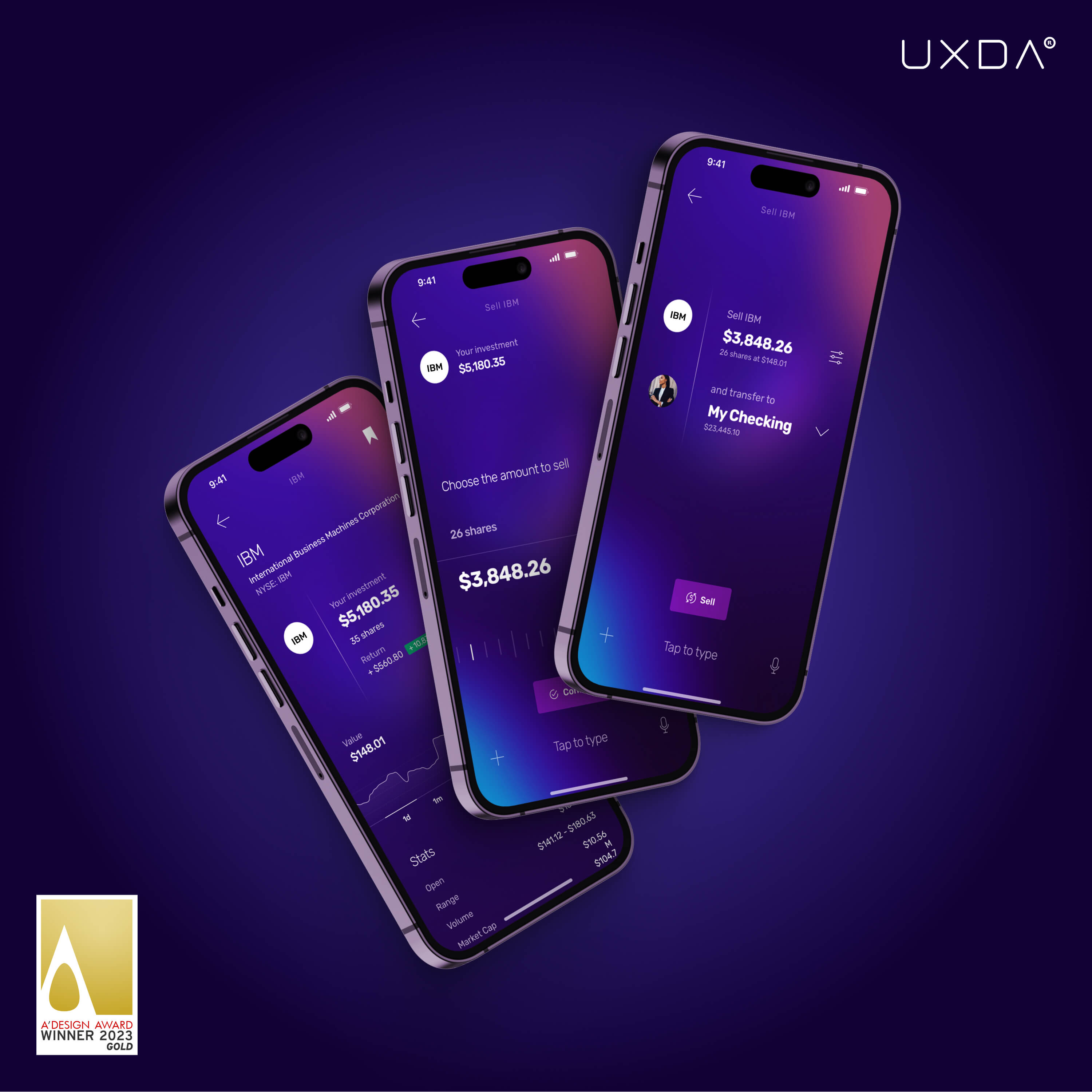 AI-powered solutions could fuel new types of products in banking, more personalized and connected to users, but integrating innovative technologies often causes complications in terms of user experience. And here, the methods of financial UX design are very effective, as they help to imagine the unimaginable and create a digital solution, focusing on users' needs.
UXDA Director and Co-Founder of UXDA, Linda Zaikovska-Daukste:
When designing the user experience for this AI-powered financial product, our goal was to evoke feelings of futurism, curiosity and innovation. We wanted to create an emotional and philosophy-driven design that exudes sophistication and balance. To achieve a unique result, we drew inspiration from Bella's founder and great visionary Angelo D'Alessandro.
Product team sought to infuse the product with the colors of a Los Angeles sunrise, the ambience of Florence's Duomo Cathedral and even the peacefulness of Japanese Zen gardens. By drawing inspiration from outside the banking world, together we were able to bring fresh perspectives to the digital product and create a truly unique user experience.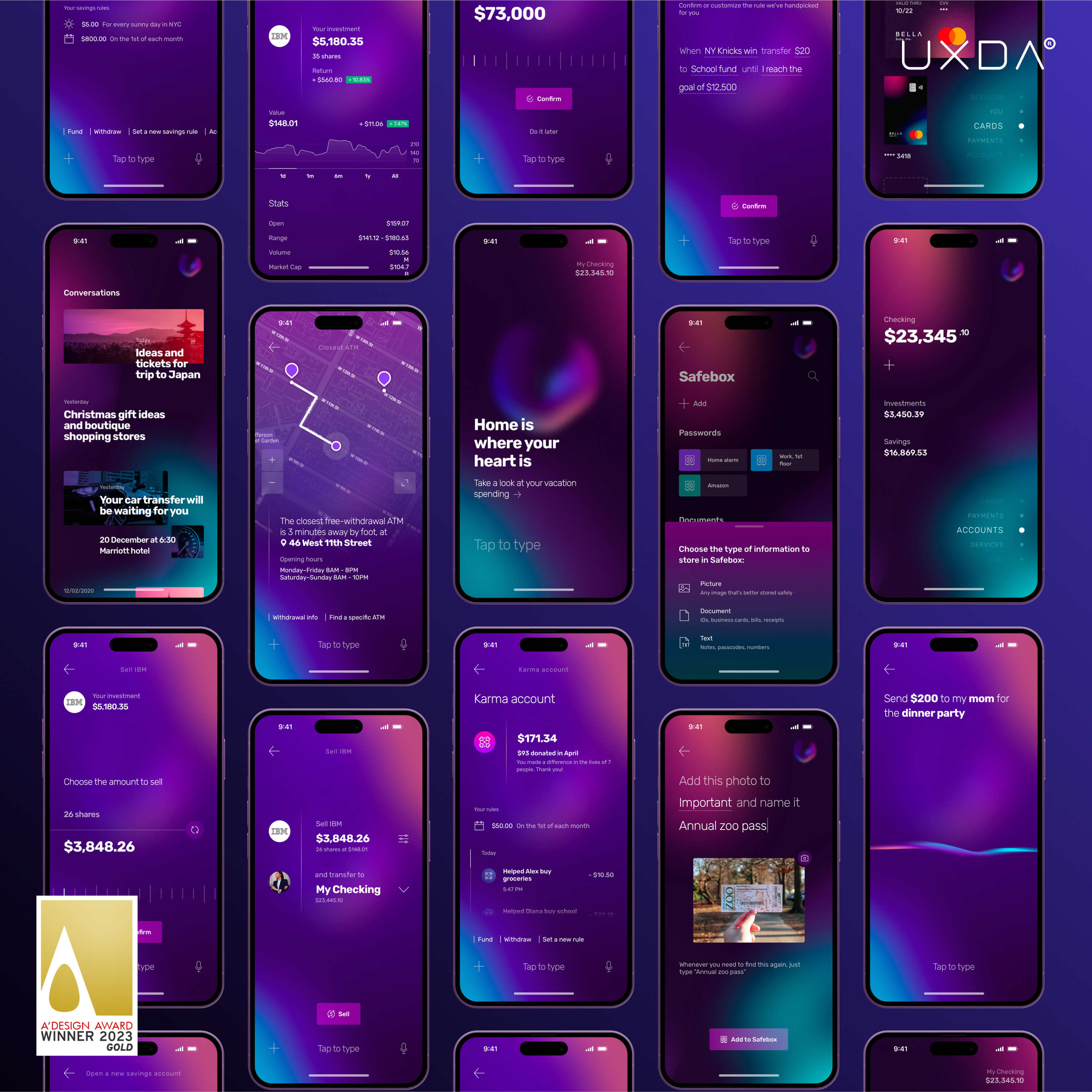 UXDA has previously received multiple international awards for its financial product design, including IF Design Awards, Banking Technology Awards, Muse Creative Awards, Vega Digital Awards, International Design Awards, DNA Paris Awards, European Business Awards, Summit International Awards and also the renowned Red Dot Design Award nomination.
Get UXDA Research-Based White Paper "How to Win the Hearts of Digital Customers":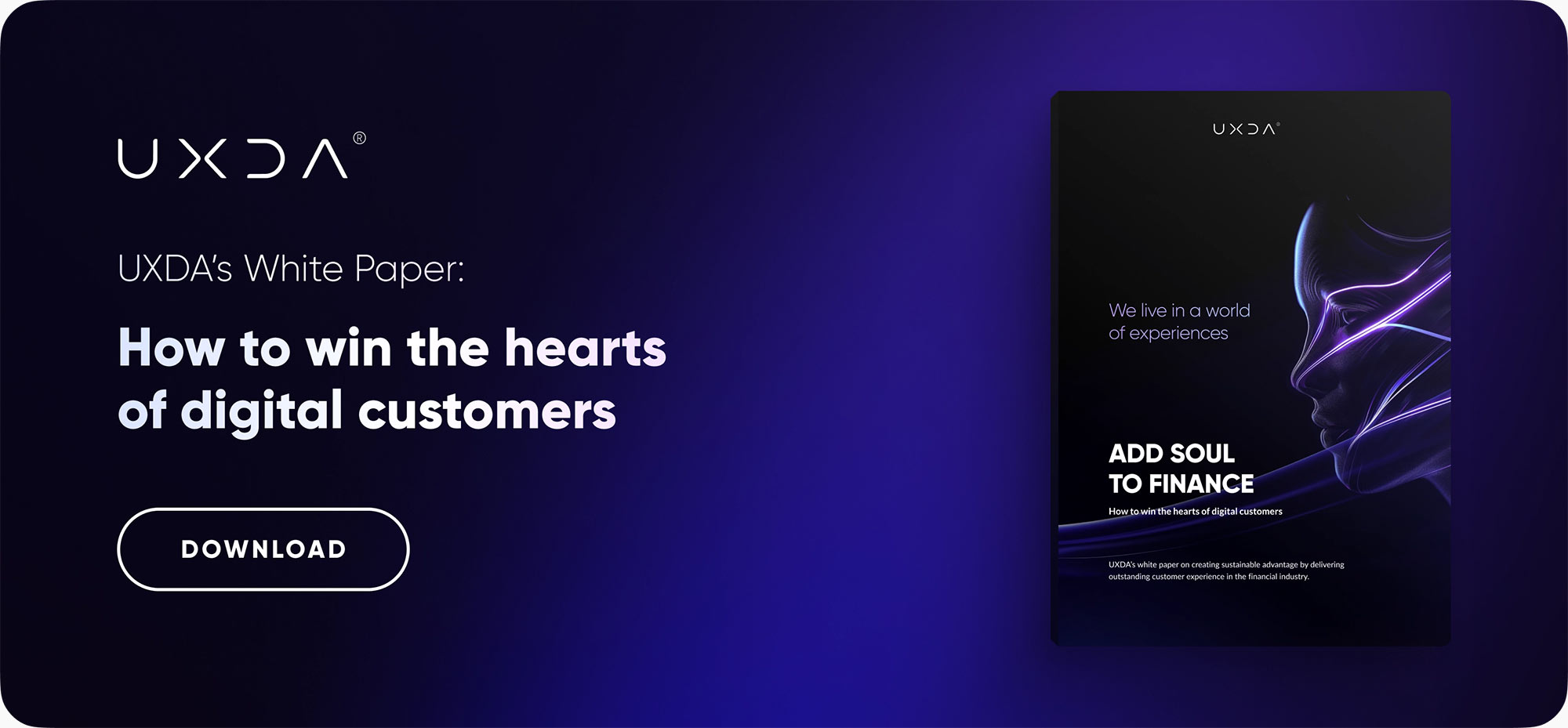 If you want to create next-gen financial products to receive an exceptional competitive advantage in the digital age, contact us! With the power of financial UX design, we can help you turn your business into a beloved financial brand with a strong emotional connection with your clients, resulting in success, demand, and long-term customer loyalty.