Digital banking User Experience (UX) is about human feelings, impressions, and behaviors while using online banking services. Main digital banking UX challenges and opportunities are about creating a digital financial service that matches users' needs with banking capabilities and is easy and pleasant to use. So, let's outline some general Do's and Don't's in digital banking UX design and reveal challenges and opportunities in how UX can help banks and Fintech startups to enhance their customers' involvement.
Fintech and Digital Banking UX Design Challenges and Opportunities
Digital banking UX, or user experience, refers to the overall experience that a customer has while interacting with a bank or financial institution through its digital products, such as its website, mobile app, ATM. This can include tasks such as checking account balances, making payments, and transferring money. Good banking UX should be easy, convenient, and secure for the customer, and should help them complete their tasks efficiently.
There are several opportunities that good banking UX can provide for banks:
Improved customer satisfaction: By making it easy for customers to complete their banking tasks, banks can improve customer satisfaction and loyalty.
Increased efficiency: Good banking UX can help customers complete tasks more efficiently, saving time for both the customer and the bank.
Competitive advantage: A well-designed and user-friendly banking experience can give a bank a competitive advantage over its rivals.
Reduced costs: By providing self-service options and streamlining processes, banks can reduce the need for in-person interactions and phone support, which can lower costs.
New revenue streams: Good banking UX can enable banks to offer new services, creating new revenue streams.
It is very challenging for banks to implement good UX. This is because many factors must be considered, such as digital strategy, complexity, regulations, legacy systems, user expectations, and security. Addressing and integrating these factors into the banking UX design is a complex and time-consuming process. It is also important for banks to continually monitor and update their UX in order to keep up with changing customer needs and expectations.
1. Define the Right Goals
It's not enough to create usable interfaces to ensure user-centered approaches in your banking service delivery. Banks need to understand what kind of experience they want to ensure at every touch point of digital interaction with their users. Every member of the banking team has to execute right goals and provide user-centric approach to promote an excellent bank UX.
2. Practice Financial Psychology
Nowadays, a lot of banks ad FIs already practice user testing and user research. This is awesome, but it's not enough. A/B testing and customer feedback from interviews are only a part of the picture. UX specialists must learn human psychology in order to conduct the proper research, ask the right questions and make the correct interpretation of collected data.
Testing button colors and placements could raise conversion for a while, but it will not make digital banking UX great. Only by understanding users' problems, needs, emotions, financial cognitions and financial behaviour on a deeper level you will be able to architect financial services that your customers are seeking.
3. Ensure UX Support From Stakeholders
The role of banking UX specialists is more highly respected and more important for customer-oriented banks. From an instrumental level of UX/UI designers, the user experience in banking will move to a higher level of engineering, from UX architects to C-level executives like chief experience officers and heads of digital experience.
This is caused by a banking organizational culture switch to a new paradigm: customer-centricity. In a digital age, this is the only way to make banking successful.
4. Make UX Approach Holistic
Effective banking UX engineering is not only about designing user interfaces. Rather, it requires deep competence in a myriad of areas, including financial services, business management, marketing, human psychology, banking technology trends, digital platforms, etc. A UX specialist explores the big picture of banking service workflow, hundreds of user scenarios and the overall background to create an ideal user journey map.
As a result, a holistic approach allows the integration of bank goals, customer needs and technological opportunities into innovative digital solutions.
5. Accept UX Challenge From Alternative UIs
We have recently witnessed the appearance of a lot of alternative user interaction platforms, such as conversational banking, AI and VR / AR technology. We expect them to grow rapidly by expanding into new areas, including finance, and providing new abilities for users. This will become a critical challenge for banking UX specialists and digital banking UX strategy in the near future.

6. Fit Banking UX to Millennials
Millennials are poised to become the most powerful consumer group in the next decade. They are tech-savvy and independent. They are not brand loyal; experience is the only thing that matters to them. If you want to ensure your bank survives in the long term, find out who these millennials are and how to engage them with an outstanding financial user experience.
7. Make Financial UX More Personalized
Artificial intelligence in banking and predictive analytics will ensure the ability to craft a pleasant user experience by matching user needs on a deeper level. Banking AI virtual assistance using Big Data and Internet of Things sensors will predict user intentions even when offline. Maybe next year is too early to speak about full AI-based banking personalization, but banking services could already be much closer to customers by personalizing user experience in banking using client's social ID.
8. Ensure Users With a Completely Digital UX
FI customers expect to be able to do everything online, having a complete digital banking experience in opening their accounts, making transactions and enrolling in new services. Many of them want to get the best possible self-service experience ensured by biometric authentication, online forms, step-by-step guides, FAQs, DIY videos, knowledge bases, online advisory support, advanced scoring, etc.
9. Empower Banking UX With Micro-Interactions
Design is getting more functional, especially in digital services, but it's not about outdated spreadsheet design with which we are so familiar in banking. It's about the science of meeting customer needs in a digital space: tasty elements and forms, clear icons, small copy and frictionless flow. In order to ensure that, banking design should switch from static to dynamic by implementing rich micro-interactions based on descriptive animation.
10. Transform Mobile-First Into Omni-Channel UX
Without a doubt, mobile channels are already dominating. If you have just begun your bank digitalization, start from a responsive web for mobile services. But to provide the best possible experience for your customers, implement omni-channel strategy that includes native solutions for major mobile platforms, responsive desktop service and, in the near future, wearables, IoT or even VR / AR solutions in the near future. This should generate exceptional banking experience connected across all platforms used by your customers.
Explore 10 Banking Customer Experience Trends 2021
Banking UX Design Don'ts
1. Don't underestimate the power of UX design in banking. Today, consumers are constantly searching for pleasant experiences. Their expectations are rising, and they could easily switch to a more active and caring provider regardless of its size and experience. Consider the success of the iPhone versus the fall of the Nokia.
2. Don't be afraid of digital technologies; just start from a simple solution that will enrich your customers experiences and match their needs. Iterate and move forward step-by-step by implementing new solutions according to you digital UX strategy.
3. Don't be too confident in the quality of your banking services. Instead, step into your customers' shoes and have courage to see the big picture, even if it hurts. Previous decades of success means nothing in the eyes of modern customers; they only care about their actual user experience in banking.
4. Don't over-complicate and over-featurize your digital banking solution; users are freaked out by information overload. Make your banking information architecture contextual; every feature is in the right place and in the right time. Follow the progressive learning curve principle.
5. Don't manipulate users through conversion rate optimization and UX engineering; use them only to bring fair value to your customers. It's not about marketing anymore. Your customers are waiting for real value from your financial service. Give it to them; make their lives easier.

Banking UX Design Do's
1. Banks should talk to users, research their financial behaviours and collect all possible feedback (including negative) to find real pain points when interacting with digital banking solutions.
2. It is finally the right moment for banks to simplify everything and offer digital solutions to make services clear, obvious and intuitive for their users. Perhaps this is the most difficult task of all because of the need to overcome legacy of an existing internal politics and an organizational culture.
3. Let's bring more pleasure and fun to finance by delighting users with emotions that banking services can provide through pleasant design and smooth flow. Let's implement design thinking and financial UX design into all bank levels starting from UX strategy.
4. It's time to look around. The world is moving fast, and rapidly growing technology startups can share some outstanding UX design insights and case studies. Banks should find out what inspires users and be open to digital challenges and changes.
5. Banking services could look more authentic if banks would add soul to it. It sounds provocative, but finance doesn't have to be so formal. We all know that digital solutions will reinvent it and make it more human-centric. Challenger banks are already unafraid to show passion in serving customers.
20 DOS AND DON'TS TO CREATE DELIGHTFUL BANKING PRODUCT
Additional answers that might be helpful:
What are the main principles of digital banking UX?
The main principles of UX design are focused on creating user-centered designs that are both useful and enjoyable:
1. User-centered design
This principle emphasizes the importance of understanding the needs and goals of the user, and designing the product or service to meet those needs in an intuitive and satisfying way.
2. Functionality and usefulness
Cutting-edge banking UX design should focus on creating products and services that are useful and meet the user's needs rather than being only aesthetically pleasing.
3. Accessibility and inclusivity
Banking UX design should be accessible and inclusive, considering the needs of users with disabilities and other diverse user groups.
4. Simplicity and clarity
Banking UX design should strive to be as simple and clear as possible, avoiding unnecessary complexity and confusion.
5. Consistency and familiarity
Banking UX design should use consistent language, navigation, and familiar design patterns, to make the product or service easy to learn and use.
6. Empathy and emotion
Banking UX design should consider the emotional impact of the product or service on the user, and strive to create positive and engaging emotional experiences.
7. Testing and iteration
Banking UX design should be based on testing and iterative improvement, with regular feedback from users to inform digital product improvements and updates.
Explore case study on how to implement these principles >>
How could a banking UX design agency help?
Banks need UX design agency services because UX design is the key to creating a seamless, user-friendly digital banking experience that will keep customers coming back. In today's competitive world of digital banking, having a user-friendly and engaging digital platform is essential for retaining customers and attracting new ones. By partnering with a UX design agency, banks can ensure that their digital platforms are designed with the user in mind, offering a smooth, intuitive experience that will keep customers happy and engaged. This can help banks to stay competitive and succeed in the digital age.
Find more about hiring fintech UX designers >>
How to design the best digital banking UX?
UXDA team follows 7 steps to design best possible banking UX for the financial product:
1. Establish a United Vision
2. Define Users Expectations
3. Match Product and Expectations
4. Design a Visual Identity
5. Craft a Prototype
6. Have a Systematic Implementation
7. Ensure a UX Guidance
Explore more about each step >>
Get UXDA Research-Based White Paper "How to Win the Hearts of Digital Customers":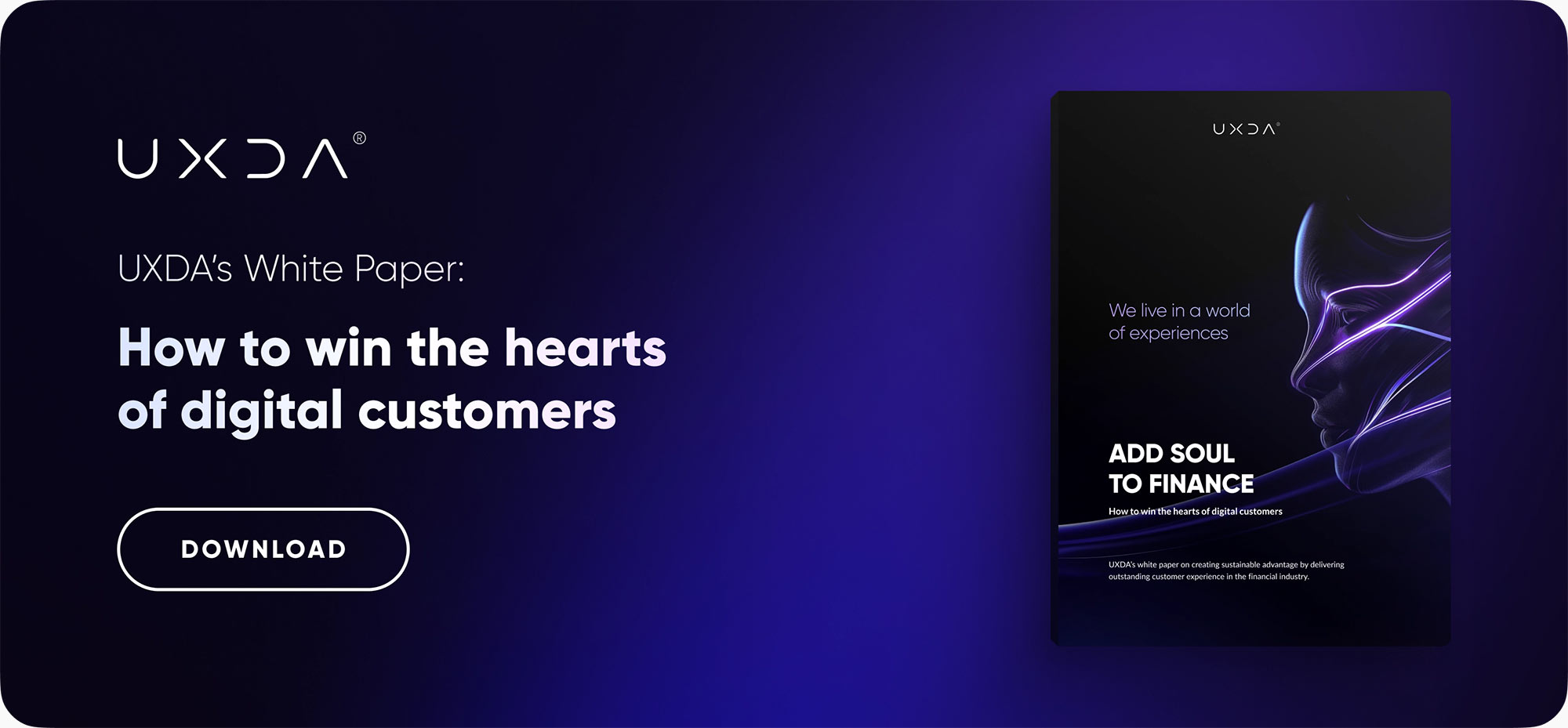 If you want to create next-gen financial products to receive an exceptional competitive advantage in the digital age, contact us! With the power of financial UX design, we can help you turn your business into a beloved financial brand with a strong emotional connection with your clients, resulting in success, demand, and long-term customer loyalty.